Backyard Bison
Finest American Plains Buffalo Meat!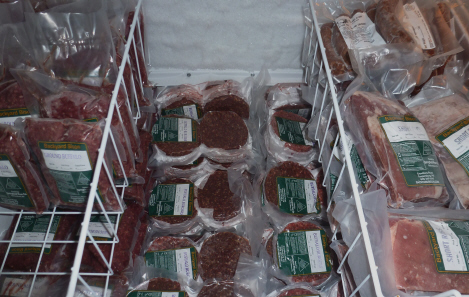 Ground Bison (No fat or water added) 1 lb. packs - great for chili, tacos, meatloaf, stuffed peppers and casseroles
Patties (No fat or water added) our buffalo burgers are available in either 4oz.(quarter-pounders) or thick 6oz. size
Ground Round - super lean
Hot Dogs - (Uncured - No Sodium Nitrate - All Bison - No Beef or Pork)
Snack Sticks - No Nitrates (Mild)
Original Jerky (no msg)
Short Ribs
Back Ribs
Stew Cubes (also great in chili)
Tenderloin tips
Chip Steaks (Buffalo chips – Healthy Philly steaks - Lean, Tender, Easy, and Tasty)
Bacon (natural cure - no sodium nitrates)
Pastrami (natural cure - no sodium nitrates)
Country Sausage (mild - great with pasta or tomato sauce, peppers & onions)
Breakfast Sausage (small links with sage)
Hot Italian Sausage (with fennel)
Fresh Chorizo (Mexican style seasoning)
Smoked Kielbasa (natural cure - no sodium nitrate)
Ring Bologna (natural cure - no sodium nitrates)
Shanks (Osso Bucco)
Chuck Roast (boneless - delicious and easy in a croc-pot)
Bolar Roast (boneless - lean - great in a croc pot)
Brisket
Rump Roast
Eye of Round Roast
Tri-tip
Boneless Prime Rib Roast
London Broil
Hanging Tender
Skirt Steak great for fajitas
Flank Steak
Sirloin Steak (boneless)
Delmonico Steak (boneless ribeye)
New York Strip Steak
Filet Mignon "Buff Tenders"
Tongue
Liver
Heart
Kidney
Oxtail
Marrow/Knuckle Bones
Product availability may be limited - we are a small farm
Above items all raised with NO hormones, and NO antibiotics. Click here for more info on how we raise our Bison.
Items are vacuum-packed and flash-frozen for quality.
Discounts - Everyone gets the discount price from us - We offer a very high quality product and our prices are lower than the commercially produced and processed Bison in our local Giant (grocery store), so we are not able to offer any further discounts or wholesale pricing.
We do NOT sell quarters, halves, or whole Bison - All of the meat produced here on our farm is needed for our farm store where we sell the individual cuts listed above. (note: quarters, halves, etc. are typically sold based on the hanging weight, which is not the actual weight of the meat that the customer receives. Also these "package-deals" include cuts that many customers do not normally use)
We do NOT offer milk or cheese - Bison are not domesticated production animals; Milking them would be dangerous for the farmer, very stressful for the Bison and would take necessary milk away from their calves. (and Buffalo Mozzarella does not come from American Plains Buffalo)
We do NOT accept credit or debit cards - I do not want to raise our prices to cover the card processing fees, especially since that would raise the price without improving the quality of the meat.
We do not ship or deliver - Sorry, but with our current farming duties, we just do not have time to pack, ship, or deliver orders.
We do not sell clothing with our logo or farm advertising.
We are not like Wal-Mart.
Okay, so it may seem strange for me to list these things that we do not do, but operating a farm/ranch like this, is not like a normal business. I earn a living doing something that very few have been able to do (because I do not do things like everyone else). My days are very long, and there are few holidays, sick days, or vacations, so I need to keep it simple, so that I can focus on the important things like the quality of the meat that we produce.
Bison hides, bones, skulls, teeth, and fiber also available
Return to Backyard Bison homepage
© 2001 - 2020 Backyard Bison all rights reserved